My Honest Review & expert opinion about Brixly Website Hosting.
Brixly offers one the lowest cost and fastest performance hosting with enhanced security, that is second to none.
I have had the displeasure of trying out the competition. I have not had a more pleasurable experience than with Brixly.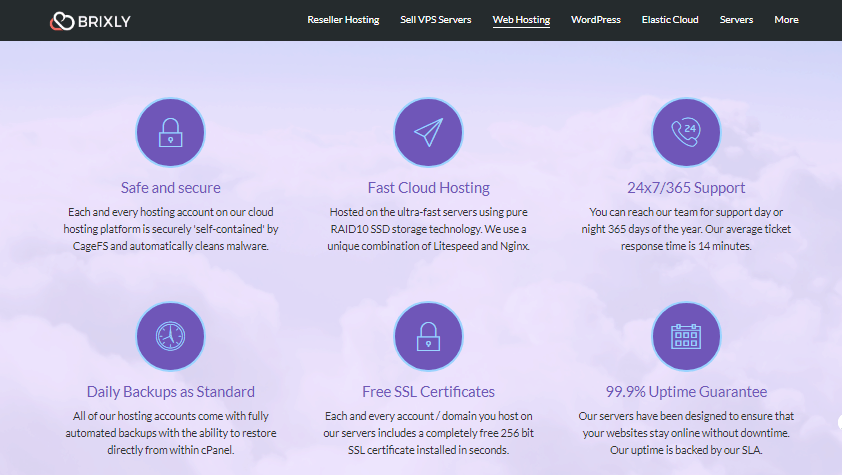 Brixly has been In business for more than six years, Brixly provides hosting solutions using servers located in the United Kingdom and the United States. With unlimited web hosting, powerful virtual and dedicated servers, and its latest innovation — the Elastic Cloud — the company continues to deliver flexible solutions to SMBs and enterprises. The website is in English only.
Features and Ease of Use
Brixly offers two shared cloud hosting plans that customers can comfortably use to host blogs, simple business websites, and online stores. Shared hosting customers will enjoy the following resources:
99.9% uptime guarantee
Free SSL certificate
Daily automated backups
Unlimited add-on domains
Unlimited SSD storage
Along with the daily automatic backups, customers can create backups & snapshots at any time they desire from their account. They can also restore their full website backup or particular files, email account & DNS records in one click from their Cpanel at any time.
The servers use pure RAID 10 SSD, which is known to be ultra-fast. It also provides full-page caching with Redis, which you can either allow or disallow on your website. It stores pages in memory for faster delivery.
Brixly also uses a combination of Litespeed and Nginx,  that accelerates the delivery of content and PHP speed. Litespeed also provides some DDoS protection through bandwidth and connection throttling when the server detects a DDoS attempt.
Brixly adds more security with CageFS, placing each account in its space, therefore, limiting the effect of security and bandwidth usage issues on one account to others.
If you wish to use WordPress, then Brixly might be for you. Its web hosting plans are optimized for WordPress, allowing you to install the web application, clone, and preview your WordPress website in one click. There's also a managed WordPress solution that offers this and more, including hourly backups, one-click staging, and plugin management.
Both users of the shared hosting and managed WordPress hosting are given access to a free website builder with over 200 designs that fit more than 30 business types.
If you're unsure about the exact configuration and resources for your VPS you can choose  Brixly's  Elastic Cloud solution which would be the perfect solution. It operates in a VPS cloud-like environment that allows vertical and horizontal scaling as your need increases. Meaning you wouldn't be dependent on only one data center because your files are stored on cluster servers across multiple centers.
Brixly's prices are low cost for the features on offer.
There is also a 30-day trial for as low as the price of low-end hosting to enable you to test the services at a reduced cost and less risk. Plus, there's a 60-day money-back guarantee on shared hosting, and a 30-day money-back guarantee on Elastic hosting. You should check it out here
Brixly customer service is impressive. You can contact them through live chat, support ticket, email, and phone. I used the live chat and was connected to a real person immediately.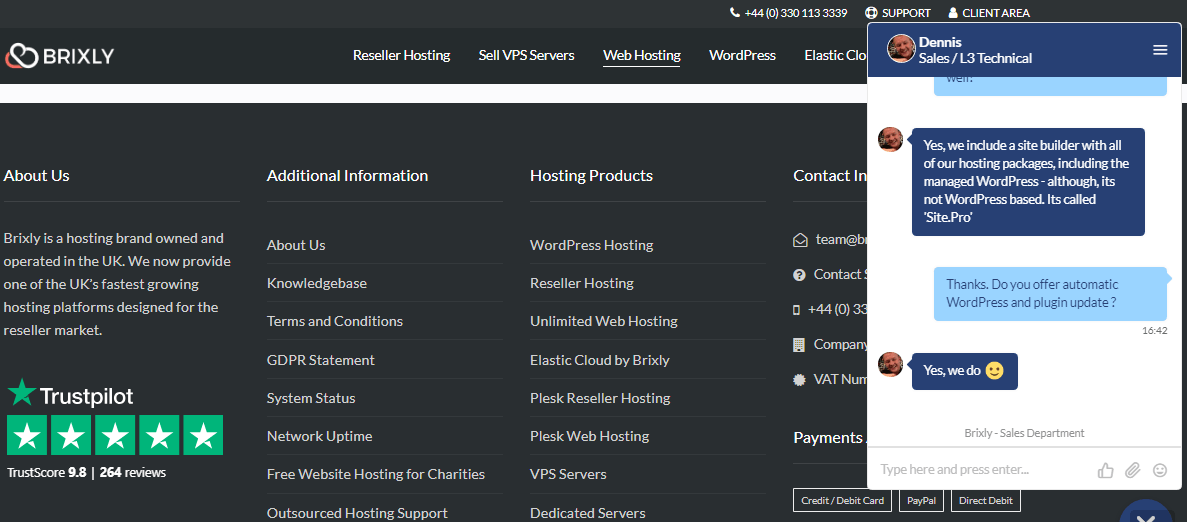 Brizly also  has a learning center (knowledge base) with helpful articles and videos that you can use to find the answers you may need.
How much does Brixly cost?
Brixly offers plans from $5 The price depends on which type of hosting plan you choose.
Which Brixly plan should I get?
My recommendation is to start with a cheaper plan. You can always upgrade later on.
Brixly
can help you with the migration to a more expensive plan.
The increase in visitors many times takes longer than expected and you shouldn't pay a lot of money until the need arises. Of course, your needs may vary, and you can consult with a hosting expert from
Brixly here.
How good is Brixly's customer support? Brixly has the best support I have experienced in all the years of suffering with the major hosting providers.
Due to
Brixly
web hosting superior support has enabled it's website hosting service to  exponentially  every day.
There are many advantages of using
Brixly
for your website hosting company. Personal service, prompt 24 hour 7 days a week support.